Tetra Communication Infrastructure
with Integrated Command & Control Solution
Our clientele is:
KLM Royal Dutch Airlines, Virgin Nigeria / Virgin Atlantic, ARIK Air, NAHCO
TOTAL EPNL, SHELL, Exxon Mobil, Seplat Petroleum, ADDAX Petroleum
G4s Security, Sheraton Group, Four Points Hotel
NIMASA, FAAN
At BRISCOE Technologies, we pay attention to the needs of our prospective and existing customers, this is achieved by conducting a thorough review of our client's needs and introducing cost effective solutions to real communications problems.
Benefits of using

BRISCOE Technologies

digital communication solution:
1. INTEGRATED CONTROL AND COMMAND SOLUTION (ICCS)- Our solution include the installation of ICCS at the organisation's headquarters with capacity to locate closest resources to the scene of incidence on the digital map in the control room. Field officers can be tracked and needed resources can be provided to them at remote locations. Furthermore, field officers' activities can be remotely monitored via the control room without necessarily being there life at the scene of incidence/operations. Current resources such as PBX, CCTV and telemetry information can be integrated to the ICCS solution.
2. SECURED COMMUNICATION SOLUTIONS- Our solutions is built to Client's specifications and it is encrypted end to end removing the possibility of eavesdropping into the organisation's communication.
3. INSTANT & SEAMLESS COMMUNICATION- Communication on the Tetra network is instant and seamless and most suitable for safety critical missions. Our solution is designed to enable all the different divisions of your organisation to communicate on a single platform seamlessly, instantly and securely.
4. INTEGRATION WITH THE EXISTING COMMUNICATION INFRASTRUCTURE – Our Communication solutions is designed with capacity to integrate the existing system thereby eliminating the need to out rightly phase out old resources so that this can be done in phases to save cost and increase efficiency.
5. BODY WORN CAMERA- Our solution include the use of body worn camera with capacity to record voice, GPS, and video so all the actions and interventions of the field officers can later be reviewed back in the office by a senior officer thereby serving as a useful tool for auditing and corrective purposes. Besides, the field officer knowing that his actions will be subject to review is expected to conduct himself diligently adhering to established rule of engagements.
6. CONNECTING SMARTPHONES TO THE TETRA NETWORK- Our solution has the capacity to allow smartphones to be used as a Tetra radio, thereby allowing the person to participate in secured radio communications from anywhere.
7. MOBILITY SOLUTION- Our mobile resources is readily available and handy to make communication possible in rural areas where there are no communication infrastructures installed. Embedded in the mobility solution is voice, video and data facilities making communication a reality in remote rural areas.
8. DIGITAL MOBILE RADIO (DMR)- Our DMR solution is deployable in rural areas with capacity to cover a large area with low density communication requirements.
Briscoe Technologies offer:
BRISCOE Technologies offers a TETRA radio communication network that has the technical capacity to cover all operational and geographical areas of the DSS in Nigeria.
The Integrated Command & Control Solution (ICCS) combines the Tetra network, the emergency response system and CCTV and Telephone system into one Control Centre where operations and Incidents can be handled efficiently.
HEAD QUARTER
The Integrated Command & Control Solution is a Control room solution that permits the organisation to monitor and control all resources in modern communications. The ICCS combines and Integrates:
Wireless communications (Tetra, DMR, Analogue radio system)
Video Monitoring (CCTV, Mobile Video)
Telephone (PBX, PSTN)
SCADA solutions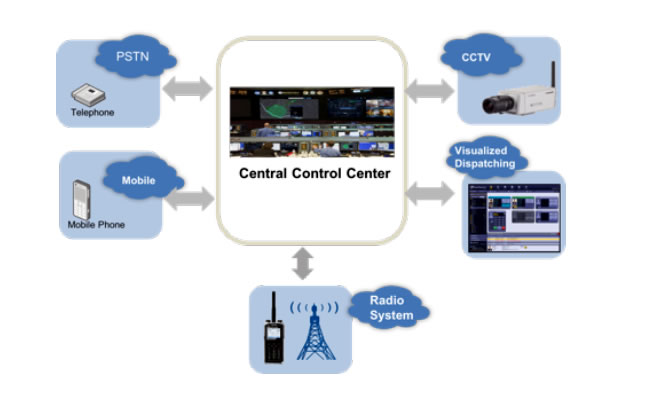 With its open architecture platform, a vast number of applications are available for the ICCS
READ MORE